At least 42 CRPF jawans killed in IED blast in Kashmir's Pulwama
At least 42 CRPF jawans were killed and many injured in an IED (improvised explosive device) blast in the Lethpora area of south Kashmir's Pulwama on Thursday afternoon. This is the highest number of casualties in an attack in the last three decades in Kashmir.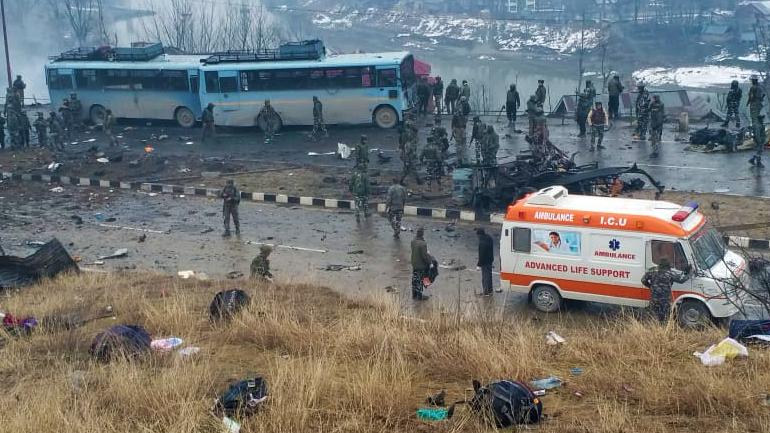 Preliminary reports suggested that the blast occurred at 3 p.m. when the CRPF convoy, carrying dozens of jawans, was moving on the highway. CRPF Inspector General said a vehicle laden with explosives hit the convoy.
Jaish-e-Muhammad claims responsibility for the explosion, saying it was a suicide blast; two CRPF vehicles damaged in the blast.
Terror outfit Jaish-e-Muhammad (JeM) has claimed responsibility for the attack, saying it was a suicide blast. A JeM spokesman said its cadre Adil Ahmad Dar alias Waqas carried out the bombing. It was not immediately clear if Dar was in the vehicle when it exploded. "All injured have been shifted to a hospital," said the police.
The highway was sealed, as deployments were rushed to the spot. The police said they were verifying if the IED was planted on a vehicle and was detonated when the CRPF vehicles neared it.
Sacrifices of our security personnel will not go in vain:PM
Prime Minister Narendra Modi termed the attack despicable and asserted that the sacrifices of security personnel would not go in vain. He also spoke with Home Minister Rajnath Singh and other top officials in the wake of the attack. "Attack on CRPF personnel in Pulwama is despicable. I strongly condemn this dastardly attack. The sacrifices of our brave security personnel shall not go in vain," he tweeted.
He said the entire nation stood shoulder to shoulder with the families of those killed. He also wished speedy recovery of those injured. "Spoke to Home Minister Rajnath Singh and other top officials regarding the situation in the wake of the attack in Pulwama," he said.
 The Congress conveyed its condolences to the family of the slain jawans through its official Twitter handle. "We are deeply saddened and angered by the terrorist attack that took the lives of our CRPF jawans in Pulwama. We strongly condemn this violence and stand with the martyrs. Our thoughts & prayers are with their friends and families in this time of grief," it said.
BJP president Amit Shah termed the terror attack an "act of cowardice" and asserted that security forces would defeat those involved in terrorist activities. "Pained beyond words by the terror attack on our soldiers in Pulwama (J&K). It is an act of cowardice. My deepest condolences are with the families of our soldiers who have lost their lives. Our forces will remain firm against such acts of terror and defeat them," he said in a tweet.
-FEBRUARY 14, 2019 / Pulwama J&K/PTI & Microstat